When you first start the application you will see the screen below with the demo job pre-defined, if you do not see the demo job the most likely reason is you have Sage installed in a none standard location and Product Importer could not automatically locate your Sage demo data, if this is the case you can create the a job manually.
Main User Interface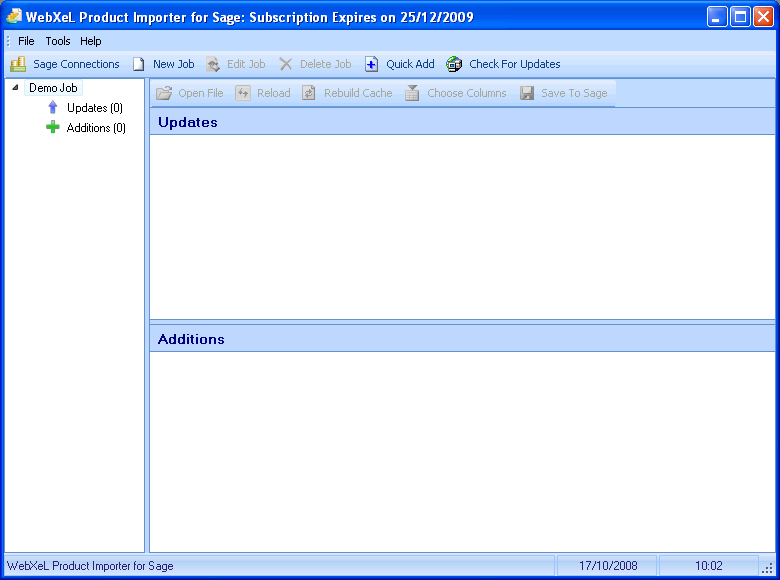 The main user interface can be broken down as follows:
Left Window
The left window is where all the defined jobs are displayed, each job is displayed as a main node which is the name of the job, this entry contained the following sub nodes: Updates and Additions.
•Updates
This show any Sage updates pending.
•Additions
This show any Sage additions pending.
Right Window
The right window changes its content based on the selections made in the left window, it will show both Updates and Additions when the parent job node is selected or will show one or the other depending on which sub node is selected.
Menus & Toolbar
File Menu
•Sage Connections
Add, Edit or delete connections to Sage, see Sage Connections.

•New Job
Create a new job, see Add/Edit Jobs.
•Edit Job
Edits the selected job, see Add/Edit Jobs.
•Delete Job
Deletes the selected job.
•Backup
Lets you backup all your jobs and connection settings to a file.
•Backup
Lets you restore all your jobs and connection settings from a file.
•Exit
Selecting this causes the application to exit.
Tools Menu
•Quick Add
This provides a quick and easy interface that allows you to quickly add one or many new products to Sage in a single operation.

•History
This allows you to view the history of updates the application has made to sage.
•Preferences
This opens the preferences screen.
Help Menu
•Contents
This option will open this help file.
•Sample Files
Give access to the sample import files in various formats.
•Website
Give access to the products web site.
•Transfer Licence
Use this to deactivate the software in preparation for installing it on a different computer.
•About
This will display the about dialog screen.